This product is no longer available.
The company is no longer in business.
Don't let your grip hold back your muscle and strength development! Can 1 Ton Hooks totally eliminate your grip as a limiting factor in your back training? Don't cheat yourself out of hard-earned strength and muscle gains...read this now!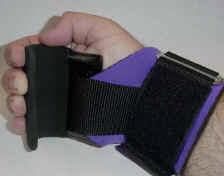 Your grip is the single biggest limiting factor when it comes to maximizing your strength (and muscle-building potential) on pulling exercises that work the back muscles, such as deadlifts, shrugs, bent-over rows and chin-ups.
Quite often, the larger, stronger back muscles still have plenty of strength left in them when your grip gives out and you have to stop the set. I'm sure this is not news to you. The question is...how do we solve this problem that is most likely a major factor holding you back in your training in those pulling exercises?

1. Build your grip strength through specific grip exercises
Developing your grip strength is NEVER a mistake. A strong grip is important not only for pulling exercises but for pushing exercises as well. But, as strong as you build your grip, your back muscles are still going to be stronger.
It is VERY difficult to be able to develop your grip strong enough to parallel your back strength in pulling exercises.

2. Use wrist straps
Straps have been the traditional grip-assistance equipment of choice for years. And they do work reasonably well for this purpose. Straps will definitely help you to use more weight and hold onto it longer.
But even the best straps WON'T totally remove your grip strength as a limiting factor (not to mention being time-consuming and generally inconvenient to use). Your grip still limits you even using straps.

3. Use 1 Ton Hooks
1 Ton Hooks are simply a beautiful concept: they COMPLETELY remove grip as a limiting factor in pulling exercises by attaching your hands to the bar with strong solid-steel hooks. Thick neoprene padding protects your wrists, allowing you to lift the weight in relative comfort.
Pictures of the 1 Ton Hooks
1 Ton Hooks Gripping the Bar

Now, the concept is good, but do the hooks score when you take them to the gym and start using some REALLY heavy weight? Let me tell you what I did to test these hooks...

The Torture Tests:
In order to be completely sure these hooks could perform as they claim to be able to perform, I put them through 3 separate torture tests. These tests were designed to push the envelope on what the hooks are meant to do for you in your workout.

Test #1 - With and Without
The first test I put the hooks through was a "With and Without" test. I started with a set of Bent-Over Rows with 225 lbs. Without the hooks, I did a set of 13 strict reps to failure. After a few minutes rest, I tried the exact same weight using the hooks.
With the hooks, I squeezed out 21 reps. That is am almost 40% improvement in rep number simply by using the hooks (and let me just clarify that I've been training for 15 years and DON'T have a weak grip).
The 1 Ton Hooks passed the first test with flying colors.

Test #2 - Strength and Endurance
The next test (Strength/Endurance) would determine how well the hooks perform over the course of an entire grueling workout. You see, grip fatigue is not only a factor in a single set but it can quickly become a big problem over the course of a full workout. By the end of a workout, your grip may be so fatigued, you're no longer able to hold onto anything close to the weights your back muscles are actually capable of moving. NOT the most productive way to work out.
The Strength/Endurance Test workout consisted of barbell bent-over rows performed for 3-rep sets with near-maximal weights. I took only 20 seconds rest in between sets and when my back muscles fatigued, I dropped the weight 10 pounds to allow myself to keep going. I followed this pattern for 40 minutes straight with the entire workout amounting to approximately 80 sets of bent-over rows (grueling is the word!).
This workout was taken from one of my "Specialization Training" programs.
So how did the 1 Ton Hooks perform during this brutal workout?
Brilliantly!
Every 5 minutes, I tried 1 set without the hooks to gauge their effectiveness. Due to grip fatigue, I would have been unable to continue with the same weights I was using after only 5 minutes. The hooks allowed me to continue training with heavier weights for FAR longer than I would have been able to without them. With the hooks, I was able to stay at my starting weight for 20 minutes...4 times longer!
Without a doubt, I was able to more fully work my back when using the hooks. The hooks passed this test with ease.

Test #3 - Maximum Weight
The Maximum Weight Test was next. It was time to see whether the hooks would cease to be useful before I, myself, gave out. The exercise: partial lockout deadlifts.
The partial lockout deadlift is done by setting the safety rails in the power rack to just below the top position of the deadlift. Since you're only moving the bar a inch or two, you can use tremendously heavy weight. This is one exercise where the grip wil ALWAYS give out before you reach your true maximum weight potential.
Without the assistance of straps or hooks, the most I had been able to hang onto with this exercise was 6 plates a side, which works out to 585 lbs. Respectable, but plenty of room for improvement. I could always feel my grip give out well before my legs or back.
Using the 1 Ton Hooks, I was able to work my way up to using 9 PLATES PER SIDE, plus two 25 lb plates for the same number of reps. This works out to 905 lbs on the bar. This is an increase of 320 lbs, simply by using the hooks! There are very few pieces of training equipment around that will allow you to increase your top-end weights THAT much. With the hooks, I knew it was my maximum because my body gave out before my grip on the bar did. First time ever!
The 1 Ton Hooks were a definite success on this final test.
---
My Conclusions About 1 Ton Hooks:
If you're interested in maximizing your back development and strength, 1 Ton Hooks are BY FAR the best investment in equipment you will ever make towards that goal.
To recap my results: an almost 40% increase in rep number in a single set, a four-fold increase in grip endurance over the course of a workout, and a 320 lb increase in maximum grip strength in the partial deadlift.
In a nutshell, you will not only be able to hold onto FAR more weight on your back exercises, you will be able to hold onto it practically indefinitely! The 1 Ton Hooks are superbly constructed and very comfortable, easy and natural to use, unlike traditional wrist straps. They are also very convenient to pack and bring with you to the gym, taking up hardly any more room than a pair of training gloves, an important consideration for those who don't like to carry too much equipment around the gym with them.
An added bonus that I discovered with the use of the hooks is a greater ability to focus on feeling the back muscles working during back exercises. This is accomplished by being able to relax your grip somewhat while still holding solidly onto the bar. Remember that old weight training technique of "imagining your hands as hooks?" Now your hands literally ARE hooks!
Bottom line: the 1 Ton Hooks rank among the very best pieces of training equipment I've ever used and I would HIGHLY recommend them. They are well worth the very reasonable $59.90 (US) asking price.
Give them a try...you'll be "hooked!"
This product is no longer available.
The company is no longer in business.