First off, the best two things you can do for your blood pressure and blood sugar are exercise and clean up your diet.
I don't think there's any argument there!
However, what if you need a little extra help to get things on track?
That's where the Advanced Blood Balance Formula from Nassential Health comes in.
I've been testing it out over the past few weeks, and I think it has definite potential.
Now, I don't have blood pressure OR blood sugar issues, so in addition to reviewing the research on the ingredient list, I relied how I felt and how I responded to taking this product with high-carb meals to gauge how it worked.
Since I eat the same general foods pretty consistently on a weekly basis, it's pretty easy for me to determine how well something like this works.
And I DID feel like my blood sugar was more stable when I took it prior to high-carb meals...I didn't get the big rush and subsequent crash that often happens eat a ton of carbs.
Here's the back of the bottle so you can have a look at the ingredients...the ones that stand out to me are...
Gymnema Leaf Extract - I have prior experience with one... I actually gave it to one of my dogs who was diabetic and it allowed us to reduce her insulin doses, so I know it definitely works.
Cassia Cimmamon Bark Extract - I've actually done a lot of research on this one and there's a lot of info supporting it's use in controlling blood sugar.
Guggel Gum Extract - I've actually used this for treating joint pain because of it's anti-inflammatory capabilities.
Vanadyl Sulfate - This one was BIG back in the 90's as a "glucose disposal agent" for muscle growth (and I used it then), though research has since shown it's actually MUCH more effective in Type 2 diabetics with existing blood sugar issues.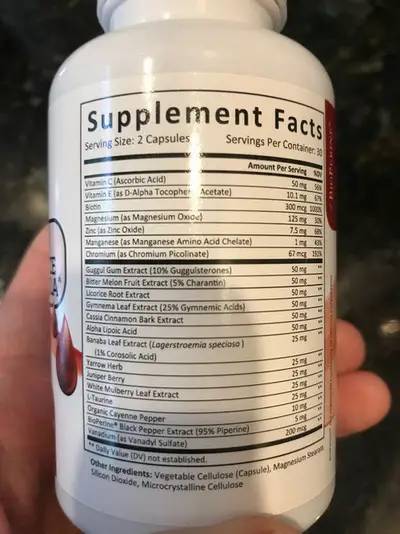 Everything else on the ingredients list is targeted to help support health blood sugar, blood pressure and blood levels.
Honestly, that will depend on the kind of issues you have.
I would recommend this most specifically if you DO already have issues that you need help with. This product is going to get you moving in the right direction, in addition to diet and exercise.
If you don't currently have any issues like that, you likely won't see much of a difference when taking it. That being said, you may notice, like I did, stabilized blood sugar when you eat higher-carb meals.
After having tested this product on myself, I saw enough results in my own experience (and research) to feel comfortable recommending it for blood pressure and blood sugar purposes.
Learn more about Nassential Advanced Blood Balance Formula here...

 More From Fitstep.com
---
Home -> Fitness For Beginners -> Recomended Fitness Resources -> Nassential Blood Balance Formula Review
---